Harley-Davidson Chip, Screamin' Eagle Pro Tuner, Race Tuner, USB Tuning Key & Dynojet (Power Vision)
Sportster 48 – Sportster Iron – Sportster Nightster – Dyna Street Bob – Dyna Wide Glide – Dyna Super Low – Softail Slim – Softail Breakout – Softail Fatboy – Heritage Softail – Road King – Touring – V-Rod – Night Rod – V-Rod Muscle – Street Glide – Mount Rushmore – Milwaukee Eight (M8) – CVO – Etc.
What's available in the Market?
Very Important to Note – Whatever make or type of chip you use, it's all about the person doing the tuning. This is a very specialised job and should only be carried out by someone who understands tuning & engines.

Tuning Harley-Davidson motorcycles is an integral part of the customization project. These bikes need to be tuned once the air filter and or exhaust systems have been upgraded. If the bike is not tuned properly and matched to the filter and the exhaust, it becomes very unpleasant to ride, generates plenty of excessive heat and in some cases misfires and surges in the low end of the rev range.
There are many types of tuning tools available for these bikes worldwide but there are few if any that are turning tools made and developed by tuners for tuners. Our SAC USB Tuning Key – Licence is similar in many ways to the Screamin' Eagle Race Tuner. It is invisible, in other words, consists of an upload, alteration and download of software so there is no hardware to be wired into the system. It is super reliable and enables us to fine tune every aspect of the engine necessary when doing upgrades from mild to wild.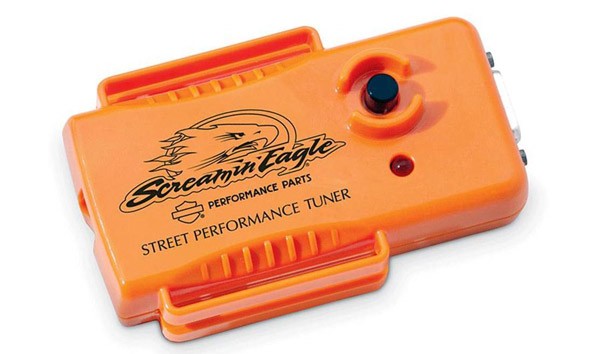 The Screamin' Eagle Pro Tuner or Race Tuner has been developed in America, by Americans with American conditions, fuel, altitude, etc. it provides a Harley workshop or dealership with an opportunity to choose a map and load it into the bike's ECU. Only a very experienced tuner with above average equipment, i.e. load dynamometer, air-fuel ratio gauges, back pressure measurement gauges, etc. can real-time tune a bike with a Screamin' Eagle Pro Tuner or Race Tuner.
We keep our SAC USB Tuning key – License in stock and are able to properly real-time tune any Harley Davidson to perfection. In reality, this would take one day if proper arrangements are made. Our Race Tuners or Chips are competitively priced and substantially cheaper than most other products available. In summary, the SAC USB Tuning Key is by far the best available for Harley Davidson motorcycles and is excellent value for money. Supplied and tuned, the SAC USB Tuning tool is less expensive than most other Race Tuners or Chips – purchase only. Once you have purchased the tool, you still need a Dyna tune to match all the engine settings to whatever exhaust or air filter is on your bike. The most recent Harley's that have been released for example the last Mount Rushmore models & the Milwaukee Eights have built in speed limiters and load limiters at various speeds & RPM's. We are able to manipulate these and change them to suit specific customer requirements. Rev limiters will only be set to reliable limits. We are able to properly tune all Harley-Davidson bikes to deliver the best possible fuel consumption & performance combinations available. Reliability and smooth rides are the key aspects of proper chip tuning.
You might also find the following pages interesting: