Looking for a Harley-Davidson Mechanic or Technician?
Do you need a mechanic or technician to fix your bike? – Harley Mechanic Near Me!
Mechanics differ from shop to shop, a mechanic is generally a person in a workshop that, together with a few assistants does all the repairs on the bikes on the floor.
What you actually need is someone who has a very clear understanding of the way the bike works and how to fix it if it breaks. At SAC Raging Bull we have a very specialised team of people who utilise tried and tested systems to repair Harley Davidson's as cost-effectively and as fast as possible without compromising the quality of the work. Good quality communication between our sales team and the team in the workshop as well as with you, our customer is the key to a job well done. A mechanic that is technically very strong and knows exactly what he is doing is worth nothing on his own unless he is working on his own bike. He needs the rest of the team to make it work.
So if you ever wondered where is the Harley motorcycle repair shops in my area, then contact SAC Raging Bull for a Harley Mechanic, who cares near you.
Very often bikes come into our workshop with a niggly problem, the more information the customer can give to the service or sales department the better it is going to be. A successful repair job will always be as a result of above average customer workshop / mechanic communication. Our mechanics have a different view point to repairing motorcycles, we are not a team of parts fitters. We have the ability to properly diagnose a problem and repair it and most times it is fixed first time around. At SAC Raging Bull, we have the added advantage of an in-house dynamo meter (rolling road) that simplifies problem-solving for us. We are able to ride the bike as it would be ridden on the road while the technician is sitting next to be bike monitoring everything necessary.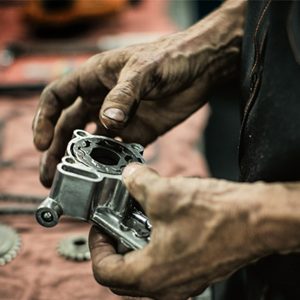 Customers don't always realise how much they can contribute to the fault finding process by simply giving as much information as possible regarding the problem. We also don't want customers doing the diagnosis themselves, this sometimes leads to confusion. It is all about information exchange and communication.
If you need a Harley mechanic to repair your bike or your bike has a problem or it simply needs a service you can call our sales department and have a talk. There is no problem on a Harley that is too big or too small for us to take care of.
Some Exciting Developing Projects At SAC Raging Bull
With the recent introduction of the all new Pan-America Harley-Davidson adventure bike, it was a natural progression for us to acquire a R&D bike.  We always knew that this bike was going to be exciting and very …
Breaking News
Now, it has always been our intention to one day add an alternative bike brand into our extensive range of tuning options so recently we also started R &D on the BMW GS1200 and 1250. This will eventually extend …
107, 114 & 117Ci M8 Range Of Harley Engines
All 3 the above engines are used in almost the whole Harley range at this stage and we have now successfully completed stage 1, 2 and 3 conversions on many of these bikes.  The conversions are very successful …
Click on the following links for more interesting pages: