Power & Performance Projects
Harley-Davidson FXS Softail Blackline Project
SAC Raging Bull FXS Softail Blackline Available to Test Ride. Harley Davidson says that the FXS Softail Blackline was built for freedom seekers who just want to get on and go, and our SAC Raging Bull's customised FXS Softail Blackline will really allow you to do that in a way you thought never possible.
To back up this statement we have made our very special Harley Davidson available for you to test ride and experience firsthand what we mean when we say that we understand engines and performance tuning.
Harley Davidson FXS Softail Blackline Power & Performance Project. 96 to 103 Cube, side frame mount oil cooler, gas flowed cylinder heads, 266 Screamin' Eagle cams & Akrapović 2 into 1 Race Exhaust
But don't take our word for it, book a ride by clicking here and be prepared to be blown away.
Introduction
The bike was purchased brand new at the end of last year strictly for development and marketing purposes, and to show off our performance tuning talents.
Our initial impression was that this Softail Blackline was relatively quick in stock form due to it being some 40 kg lighter than the Touring bikes and Fatboys.
But after being run for around 1 000 km, it was found to have only around 59 kW of power and 135 Nm of torque at the back wheel when measured properly on our dyna despite the fact that it came straight from the dealer with Vance & Hines open pipes fitted.
The Transformation
Our first step was to change the engine from a 96 Cube to a 103 Cube. We then fitted a side frame mount oil cooler and decked the barrels to get the compression and squish right.
We also flowed the cylinder heads and went about 1.5mm bigger on both intake and exhaust valves.
We fixed the compression ratio to 10.5 to 1 with normal flat top Screamin Eagle pistons, the same as we always use on all the 103 Cube jobs.
We then enlarged the throttle body from 46mm to 50mm and fitted a Screamin Eagle performance heavy breather kit with a Screamin Eagle Black & Silver Cosmetic Cover.
Almost at the end we fitted high-flow injectors and a Uni-Chip to assist us in fine tuning this whole mix.
We started out with a set of relatively heavy 266 Screamin Eagle cams along with Vance & Hines Short Shots and then started tuning.
Something really worth noting is that the engine in the Blackline is what Harley Davidson refers to as a 'B' engine.
The 'B' is for Balanced – it has two additional balance shafts in the engine which are pretty heavy to turn with the engine which is a big disadvantage against the 'A' engine fitted to all the Touring models and Dynas which do not have the balance shafts.
The 'B' engine is commonly used in the Softail range as it is a rigid mount engine, i.e. no rubber mountings – the engine is bolted directly onto the frame so the engine, primary drive and gearbox actually form part of the frame when bolted in.
So with a 'B' engine we found it very difficult over the past few years to exceed 90 kW on our dyna on Softails using the 103 Cube engines.
The best we have seen on a very sorted 96 Cube 'B' engine was around 85 kW.
On our first attempt our Softail Blackline Project Bike had around a 100 kW with those 266 cams fitted and made its maximum power at around 6 200 rpm while revving to 7 000 rpm.
We rode the bike like this for a while, but we were not happy with the lowdown tractability and we were very concerned about the load on the top of the valves and valve train as the 266 cams have an effective valve lift of roughly 17mm after the rocker ratio is taken into account.
The bike was very quick though and we had the rev limiter set to 7 000 rpm with the help of a Screamin Eagle Race Tuner.
It again must be noted that the Screamin Eagle Race Tuner was only used for the rev limiter setting and all the other engine tuning was done with a SAC USB Tuning Key.
We are happy to report that today we are able to use our less expensive and all new SAC USB Key software to do the same work although to get it tuned properly you would still need the software download and the SAC USB Tuning Key.
This is important to know because both the Screamin Eagle Race Tuner and the flash tuning software are unable to fine tune properly when wild cams are used.
We have found this to be the same on all the bikes that came from whatever workshop that has had radical cams fitted and race tuners in.
The Screamin Eagle Race Tuner is simply not able to do what we require it to like the SAC USB Tuning Key can.
This is highly technical stuff that we will gladly discuss in further detail with you when you call us or book your bike in.
What is important for now though is that on fast or Cammy engines we definitely need to use flash tuning via our SAC USB Key software to make the bike rideable, while keeping it economical and smooth while also being able to rev high.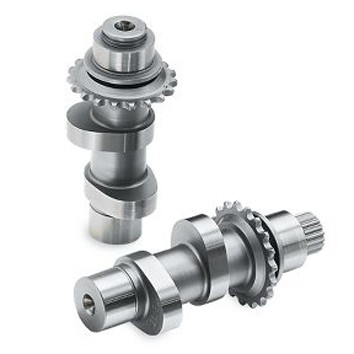 We then took out the 266 cams and went to 260 cams and finally to even milder 259 cams and found the results to be very similar but minus the stress on the valve train to go with a bike that now pulls like a train from low down.
As a Hog like this is to be enjoyed on the open road, we also took up the rear sprocket from 67 tooth to a 70 tooth for further improvement intractability at the expense of outright top speed.
Our final technical upgrade was to remove the Vance & Hines pipe and fit an Akrapović 2 into 1 Race Exhaust and as the bike stands now, it makes roughly 95 kW and 210 Nm of torque while still achieving around 20 km/litre of fuel.