Some important HD – Intelligence
It's winter 2015, it's cold and it's definitely not ideal riding weather. That said some still ride regardless, they call us hardcore – you should never stop riding, it`s good for you!
I'm not going to go into much detail here, but I would like to bring an issue to your attention that we have found to be a growing concern. It is an issue that is persistent, dangerous and expensive to repair – front brake lever, clutch lever and "tassels".
Many of our clients like to fit tassels on their bikes, either the Harley type or in some cases relatively inexpensive aftermarket ones. This means that you have leather tails hanging from the clutch and brake levers that create unwanted pressure due to wind resistance on both levers when riding faster than 100km per hour. We are seeing more and more brake light failures and clutches that slip as a result of tassels.
If the brake lever is slightly under pressure at around 140km per hour it results in the brake light flickering or staying on. Not only is this dangerous but it also causes the brake bulb holder to melt or change shape because it is on for extended periods of time while you are not actually braking. The bulb for the stop light is far brighter and a higher wattage than the tail-light and is not designed to be on for long periods of time. When the brake light fails as a result of the front brake lever pressure, it also doesn't work when the rear brake is applied. One more problem that is happening more and more on some of the older bikes, also related to the brake lever – Corrosion, wear & tear and weather also cause the front brake lever to not return properly to its natural off position. This could also result in your brake light staying on while the brake is not engaged.
The same applies to the clutch lever, a small amount of unwanted pressure takes up the clutch free play and depending on the speed, starts to engage the clutch without the need to do so.
Some of these tassels are attached to the levers and every now and then we see tassels that are fitted around the grips. This type interferes with the clutch adjustment which ultimately affects a micro switch that sits in the clutch side switch housing. This switch is there to amongst other things allow you to start your bike while it is in gear and the clutch is engaged. Ideal clutch adjustment is necessary for smooth gear changes and finding neutral.
If you have tassels on your bike we just want you to be aware of the consequences.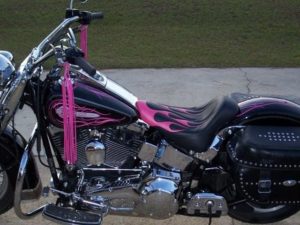 We found that many of our clients are paying huge insurance premiums. We are investigating a cost effective short term insurance alternative that could end up saving you some money on a monthly basis. Once we have finished all our research, we will make this information available to all our customers via newsletter and or our website. Remember to update your insurance detail with your broker when doing costly upgrades either to the engine or cosmetic. Failing to do so, will result in tears when claiming.
You may remember a few years ago, I mentioned trickle chargers and the need for them to prolong your bikes battery life. Its winter again and you may want to call us for advice on looking after your bikes battery. It is an expensive and largely unnecessary spend in most cases. These batteries die a slow death when the bike is not used regularly and in most cases the batteries are un-savable.
We keep these chargers in stock and they are relatively inexpensive but need to be fitted properly. On the newer bikes, a partially flat battery results in fault codes being stored in the bikes ECU and in some cases it affects the fuel range, trip meter readings and clock when you start the bike. A Flat battery could also result in the bikes charging system failure – this is expensive to repair.
Now, historically HD bike workshops slow down during the winter – that means it`s time to do some winter maintenance or to do that work that would usually interfere with your weekend riding.
We thought it would be a good idea to remind you how we can help you fix, maintain or personalize your Harley over the next few weeks.
Service, Repairs & Maintenance – Must have's
Minor and Major servicing
Brake Pads, brake fluid flush and bleeding
Wheel bearings- preventative maintenance
Fork service, seals, oils – preventative maintenance
Complete bike check-overs or evaluation
Tyre inspection and or replacement
Charging system inspection and repairs
Battery maintenance and replacement
Clutch overhauls
Lowering kits
Bike wash, grooming and glazing
Introducing buyers and sellers
Performance Enhancement and Upgrades– Nice to have's
Engine upgrades – more power and torque – many options from mild to wild
Chipping, Tuning and Dyna graphs – Race Tuners
Popular performance exhausts – Akrapovic, Fire Brand, Two Brothers, Vance & Hines
Performance air filter kits – various options
Oil coolers
Chrome and accessories
Personalizing – paint jobs, air brushing, etc.
The above lists some of the services that we cater for.
Ladies and gentleman as you can see we offer a one stop Harley shop, we love helping Harley people to love their bikes and their riding experience.
Send us an email, this way we are able to deal with your enquiry without interruption, just tell us what you're thinking ,what you need to know and we may surprise you with our June specials.
sales@steves.co.za, sales2@steves.co.za or simply submit an enquiry on our website: www.sacragingbull.co.za
If email is out of the question or inconvenient, you can call us on: 016 981 7199, 016 931 0011 or 016 933 0148.
Our SAC Raging Bull mission statement
To never accept being average in who we are and all we do, and to be the number one preferred supplier of quality replacement and aftermarket spare parts and or services to the South African automotive and motorcycle industry by offering an unrivalled level of service and professionalism at a competitive price. To be a high-tech alternative to the OEM.
Watch this space for our exciting Loyalty Rewards Voucher program to be launched shortly!!!