CAUTION – When using pressure cleaners to wash our bike
SAC Raging Bull Customers
Hi, all you Harley riders,
Can you believe its winter again? We hope you will all be doing some riding during the winter, you must just dress right. I thought that it would be a good time now to send a short newsletter out. Try and find some time to read it because it could assist in more ways than one.
As time goes on we get to know more and more about the rare Harley weaknesses. I am only going to address a few now that I feel are of importance or that could catch you out on the road while on a long trip, far away from home.
If you are one of many who wash their bikes often, especially with a hose or a high pressure cleaner, try and miss the hand controllers and the ignition switch. Heated grips, handle bar switches, front brake light switches, ignition switches, etc. are very sensitive to water and will be affected.
If you have an 88 Cube Dyna, Softail or Tourer you need to do some preventative maintenance on the cam chain tensioners and flywheel. Call us on this one, its important and quite technical.
When or if your bikes battery goes flat you should rather use an external charger to charge it or try and ride the bike more often to keep it charged. Riding with a flat or a bad battery will result in the failure of the alternator. They are very costly to replace or repair. Jumping someone else's bike is tricky so be careful, rather try and jump start or charge from a car if necessary. The Harley alternators are very sensitive. We suggest that you purchase a winter charger from us and we will fit a pick tail wire on the battery to simplify winter charging or charging if the bike stands for a while.
When we service the bikes we check the battery terminals but they tend to become a little loose after a while. A visual check doesn't help; you need to use a spanner. The "lead" connections deteriorate after a while and your bike will start cutting out while riding. If you pull off and restart the bike it will be fine for a while again but the problem will reoccur. This also eventually causes permanent damage to the alternator.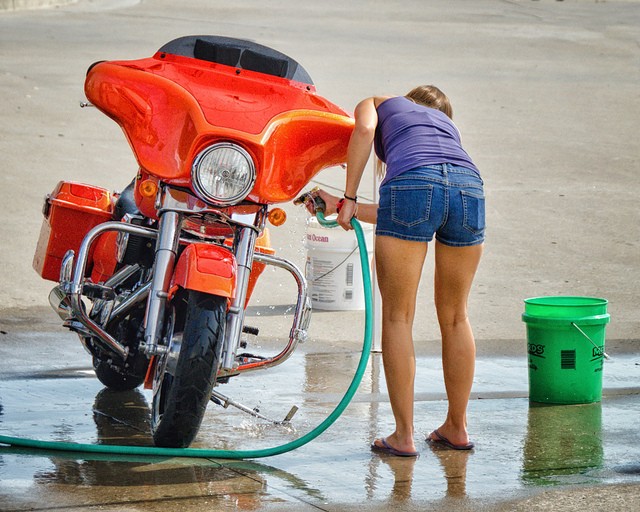 Tyres are an ongoing problem with Harley, the Dunlop's are the best but because of the tyre shortage or stock problems they are expensive. Make arrangements for your tyre replacement a while before the time. It can save you plenty of money.
If your bike has a slow speed wobble in the front or a rattle at the triple tree area you need to have it looked at, sometimes when servicing the bikes we are unable to experience the problem as we only ride for a short while on good roads. Rather bring it to our attention when you drop the bike off at our shop.
A long while back I wrote about wheel bearings, this is a big issue due to the inconsistency of wheel bearing failures. Most times there are no warnings and they fail when you least expect them to fail. While the Harley-Davidson repair standards call for them to be replaced at around 50 000km's we prefer replacing earlier at around 30 000km's. We try and replace them together with a tyre change because you can save money on the labour. We have had wheel bearings fail as early as 10 000, 15 000 and 20 000km's, there is no distinct pattern and we believe that, if they fail so early it is normally as a result of a water related cooling event. We are still busy investigating this one.
We know that many of you don't ride as often during the winter as you do in the summer, so it's a good time to do maintenance, repairs, customisation and modifications. Paintwork and makeovers that take longer than 1 or 2 weeks are also well suited to the winter months. Bike riding is seasonal so generally bike workshops are quieter during the winter. Why not let us do that long awaited conversion on your bike this winter. Don't forget to negotiate a special winter discount with us, we will gladly do everything we can, to save you some money.
We hope to see you soon.
The SAC Raging Bull Team