Power & Performance Projects
A real 'Raging Bull' from SAC – The Ultimate Rocker C Upgrade
Harley-Davidson motorcycles are known for many things, they offer a proud heritage to go with open road cruising ability, but one thing they are not normally associated with is speed and power when they come off the showroom floor.
Well, we can tell you that the team at Steves Auto Clinic – Raging Bull, your independent Harley specialists in Vanderbijlpark, have gone out and produced what is probably the strongest, every day, good oil pump fuel, air-cooled Harley in the world. That's right, SAC Raging Bull have certainly put the 'Raging Bull' part of their logo into this FXCWC Rocker C and have given it close to modern day super-bike power.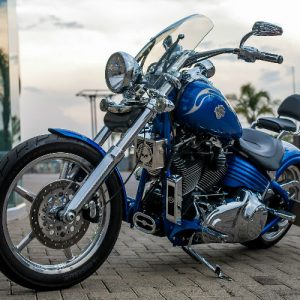 In standard form, the fuel injected, counter-balanced twin-cam 96 cubic inch (1584cc) 96B powertrain, that runs a lowly 9.2:1 compression ratio, is only good for 65Hp (48kW) of power and 120Nm of torque*.
*(Please note these figures and all other figures quoted here are measured from the engine and are corrected to motorcycle specification. SAC Raging Bull use figures measured at the wheel on an all-wheel-drive dyna for their performance upgrade options.)
Considering the FXCWC Rocker C weighs in at over 300kg, this is hardly a number to excite anybody with petrol flowing in their veins.
As is always the case when dealing with SAC Raging Bull, they offer the customer multiple stages of performance upgrade options to suit any pocket and application.
The STAGE ONE UPGRADE here included changing the air filter and exhaust system to free-flowing high-performance units, as well as perfectly setting up the FXCWC Rocker C with their SAC USB Tuning Key solution, now sees a better 84Hp (63kW) and 137Nm being produced.
There are many types of tuning tools available for Harley-Davidson motorcycles worldwide but there are few if any that are tuning tools made and developed by tuners for tuners. The SAC USB Tuning Key is similar in many ways to the Screamin' Eagle Race Tuner. It is invisible, in other words, it consists of an upload, alteration and download of software, so there is no hardware to be wired into the system.
It is super reliable and enables SAC Raging Bull to fine tune every aspect of the engine necessary when doing upgrades from mild to wild.
Fitting parts is one thing, but tuning these motorcycles is an integral part of any performance upgrade project. Harley's need to be tuned properly, if not, they become very unpleasant to ride, generate plenty of excessive heat and in some cases; they even misfire and surge in the low end of the rev range. Not to mention the damage being inflicted on the pistons, combustion chamber and valves.
STAGE TWO UPGRADE sees the cylinder heads being given a mild gasflow and work over, at the in-house SAC Engineering facility, along with a mild set of cams and bigger throttle body fitted. This is all tuned once again with the SAC USB Tuning Key, and now you are starting to see the likes of 96Hp (72kW) and 145Nm being produced, which is almost a 50 percent gain in power.
There is a variation on this stage two performance upgrade, where you can also opt to have standard 103 cubic inch (1688 cc) pistons fitted and this will realise 108Hp (81kW) and 170Nm.
STAGE THREE UPGRADE is about compression and the ability to rev better. Here high compression 103 cubic inch pistons are fitted, because if there is one thing a Harley-Davidson motorcycle likes, it is more compression. The cams used now are a bit wilder, and an Akropovic exhaust is fitted to produce 133Hp (99kW) and 180Nm of torque throughout a far wider, higher revving power band.
Now the SAC "Raging Bull" is sitting at around double the power of a standard FXCWC Rocker C. And we don't have to tell you what it feels like to ride a bike with double the power you are used to. Of course, you would think that is enough. But it is not!
The final STAGE FOUR ultimate package includes 113 cubic inch (1851cc) high compression pistons, wild RX267 cams, the cylinder heads are reworked with bigger valves fitted, the compression is bumped up to 11.5:1, and a high flow oil pump and fuel pump is fitted, along with an uprated clutch that must now handle a record making 156Hp (116kW) of power and 200Nm of torque.
This entire performance upgrade series is done using only genuine Harley-Davidson parts, is reliable, makes use of normal 95 octane pump fuel, no race fuel or octane boosters required, and this FXCWC Rocker C can be ridden every day as already said.
Talking of riding, something like this must be ridden to truly understand the level of acceleration that is now a twist of the throttle away. Whether it is blasting away from the traffic lights and leaving long black lines or simply overtaking on the open road, it all now happens way quicker than you could ever believe possible with a Harley-Davidson.
This multi-stage method of performance upgrade is available throughout the Harley-Davidson range, and to find out more contact SAC Raging Bull on 016 981 7199, mail them at hd@steves.co.za.