BMW 1200GS & 1250GS Service, Repairs & Maintenance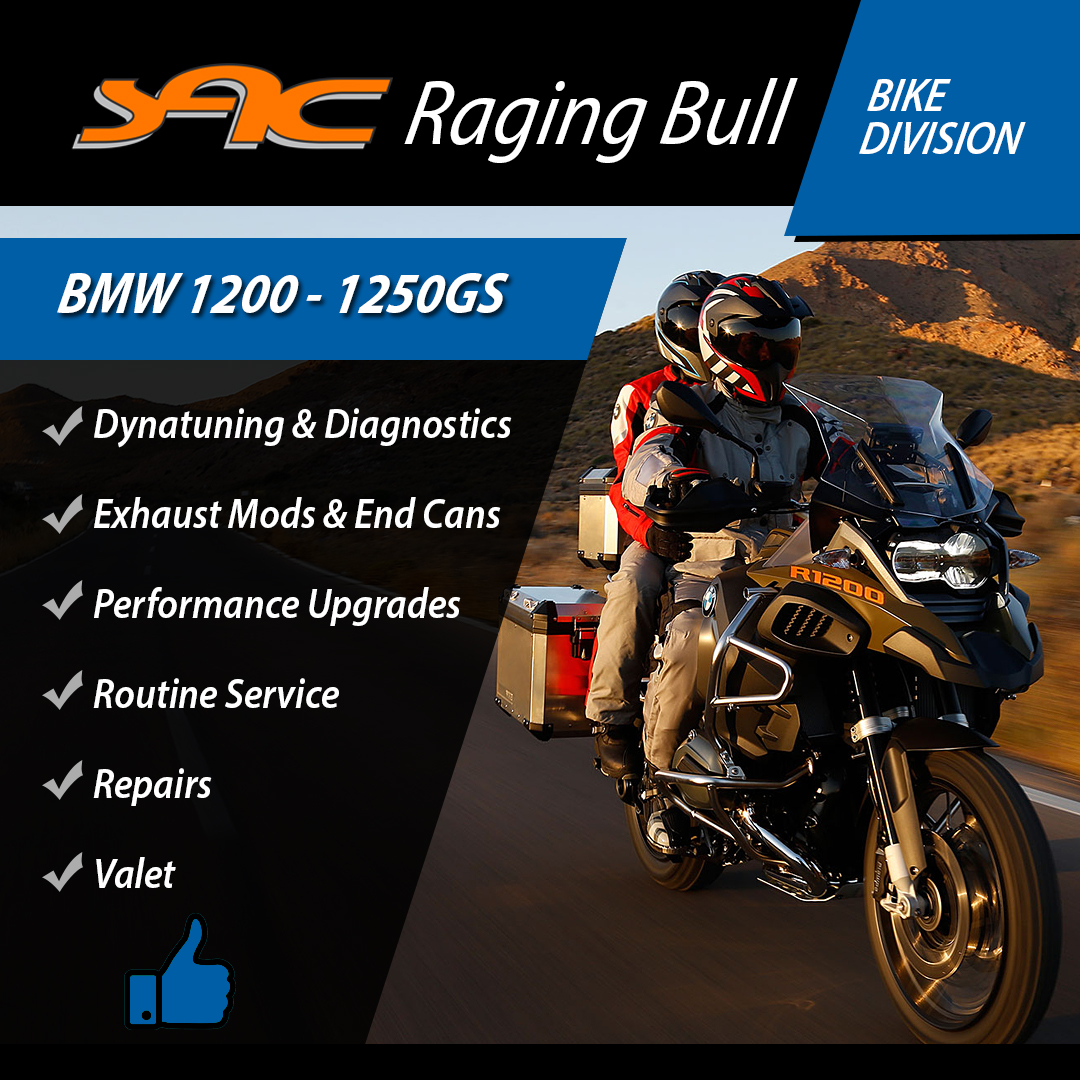 No, we are not new parts fitters and no, we do not offer the cheapest service in town.
When it comes to looking after the BMW adventure market our approach is much the same as our Harley-Davidson one.  All our emphasis centers around customer service, reliability and keeping your bike's wheels turning. Our aim is to always deliver on all the customer's needs in such a way that the customer would always know exactly what we are going to do, how long it is going to take and how much it will cost.
When we released the following ground breaking news last year regarding our plans to add the adventure bike range to our portfolio we were very excited about this decision.
Breaking News
… it has always been our intention to one day add an alternative bike brand into our extensive range of tuning options so recently we also started R&D on the BMW GS1200 and 1250. This will eventually extend to include a bigger portion of the BMW adventure bike range. It was a no brainer for us to extend our tuning knowledge base of more than 40 years to this iconic brand. We will soon be ready to go to the market with a comprehensive range of stage 1 options for these bikes and we will make it very public when the time is right. The tuning options have already been finalised and we are very confident that specific riding needs will be met for those who want something special.  Our aim was to improve power delivery low down in the rpm range while reducing thermal temperature and protecting the engine in the process. We are also able to make adjustments to idling, wide open throttle riding, rev limiters, speed limiters, etc. Cruising speed fuel consumption was protected and more power and torque has been unleashed throughout the rev range. The tuning files found in the standard ECU's for the BMW adventure bike range are very close to right, although we found very good gains in part throttle – low to medium rev range were the standard bike runs very lean causing excessive unnecessary thermal build up. Upgrades on these bikes whether it be only tuning and or air-cleaners, exhausts and silencers will be well suited to riders who choose to have their bikes perfectly tuned.  We will soon also be doing stage 2 modifications which will include cylinder head gasflowing and high compression pistons similar to those found in the HP 2 1200.
We unequivically offer the most thorough and comprehensive service and or approach to bike related problems. We use a very logical, communicative approach to finding and solving problems while maintaining these motorcycles. We are big on preventative maintenance, not only normal routine servicing.  You can read about these topics elsewhere on this website.   At this point in time we are focusing on the 1200GS and 1250GS range but will eventually extend this to the range that uses the boxer engine style.
We have done all our R&D to enable the launch of our performance enhancement package for these bikes.
BMW 1200GS – Performance Upgrades Now Available:
– Gasflowed Cylinder Heads (only available for air-cooled at this stage)
– Silencer Modification
– Decat (no gains on water-cooler models)
– Highflow Filter
– Tuning (not required for water-cooled models)
Upgrade your BMW 1200GS air-cooled to water-cooled spec and 1200GS water-cooled to 1250 spec.
R22 000 if done as a package.
We have identified a big need in this market when it comes to service, repairs, preventative maintenance and performance upgrades and would like to think that we should be your prefered choice in looking after your adventure bike right here in the Vaal Triangle.  Our services include sourcing and fitting accessories, tyres, accident damage, etc.
And now, historically after having serviced many of these GS's especially the older generation 2004 to 2013 models. We have found that the preventative maintenance service history is not up to date – it would apear that more often than not BMW owners and workshops have been doing only the basic oil service requirements. BMW as well as us recommend the following preventative maintenance.
Every 20 000km – drive shaft lubrication and inspection & valve clearance check and or adjustment (this will always be a good indication of any forthcoming valve related problems).
Every 2 years or when necessary by inspection – flush and bleed the bake fluid.
Every 30 000km – change and renew fork oil & renew alternator v-belt especially when riding in off-road conditions (sand and stones accumelate in the belt and pulleys and causes damage).
Every 50 000km or when required – renew front wheel bearings.
NB! You need to replaced the battery when the signs are there or risc the need to change the complete alternator at a very high cost. 
ATTENTION GS RIDERS IN THE VAAL
Maintenance is now on your doorstep. Good news if you live in or around the Vaal Triangle and you ride a GS, you can now have it attended to, serviced, repaired, tuned, etc. right here in Vanderbijlpark.
SAC Raging Bull is now also specializing in all things BMW GS Adventure – Your One Stop GS Workshop.
MAKE THE RIGHT CHOICE.
ATTENTION BMW-GS RIDERS
More power for your GS 1200 or 1250 is nothing without reliability. It doesn't need to be expensive to sound expensive. Let us unleash some of that trapped GS grunt from your bikes standard end can and save you thousands of rand's. That special sound can easily become therapeutic, and we'll make sure its reliable forever.
Why not unleash your bikes full potential?