Harley-Davidson Detailing – Washing – Valet
Wash Bay – Grooming (TLC)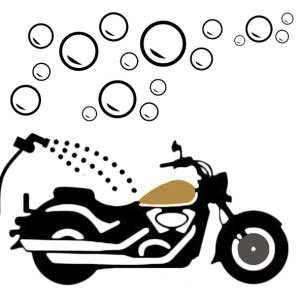 Harley's are no ordinary bike and mostly are accessorized to the hilt.
You can't entrust the washing and cleaning of you Harley Davidson to anyone. Fine scratching and chrome damage will be imminent.
Bring the bike to us and leave it for a day or so, we will do the job properly for you and make you proud.
Not only will we wash your Harley but also give it a once over. Good qualified eyes will spot any loose or potentially damaging parts and report it to you.
Screens highly polished chrome and paintwork will be awarded the TLC and effort needed to preserve such a legendary bike.
Your Harley is not just any old bike so don't clean it with just any old rag or polish, use the right stuff.
Shine Protect and Be Proud
It is without doubt that your bike is your pride and joy, it's probably even an extension of your lifestyle or it's your hobby – surely you are passionate about it.
A wash every now and then may keep it clean but that's all.  Your bike is forever or frequently fully exposed to the elements, rain, bugs, dust, grime, road salts and coastal air to mention only a few.
This is why a bike deteriorates fast and soon becomes aged.
The plastic and rubber deteriorate first and the paint ages while the aluminium and chrome or stainless steel always become very dull. Paint is usually full of swirl marks and blemishes for all different reasons.
So, if you value your bike and prefer to keep your prised possession in a pristine showroom condition then our detailing program is dedicated to you and all those like you.
We have invested in knowledge, equipment and product that is absolutely superior in quality to allow us to apply specialised techniques that will not only renew your bike but continue to protect it from the elements and simplify the future cleaning and maintenance. Washing your bike will become a breeze and keep you proud.
There may come a time that you are ready to sell and or replace your bike, then our detailing options will undoubtedly add huge value to an already sought after machine.
Amongst other things our valet and detailing program includes paint correction in steps and preservation, polishing of all shining parts, rejuvenating of all soft material – seats – soft boxes – tyres – etc., ceramic coating, engine brightening and much more.
Ceramic Coating in More Detail
Most people think that all the cost for detailing and valet lies in the ceramic coating, this is not the case.
It's all about the preparation and restoration back to the former glory before ceramic coating is applied.
Ceramic coating is a glass like substance that once applied sits on any surface, it stops water, dust, bugs, etc. from sticking to that surface. Ceramic coating is available in various qualities and carries a guarantee for a few months – up to a few years – depending on the choice. It lasts far longer when properly maintained using the correct product after application.  Touch up kits are available on request, or you can simply bring the bike back so that we can do a touch up.
The ceramic coat application only takes an hour or two while the preparation can take a few days to complete.  Simply put, if the bike is not prepared right the ceramic coat will sit on an unprepared surface. Depending on the quality of the product used a good quality ceramic coat application can also add additional shine to your bike's components leaving it better looking than when it was new.
Valet – Detailing Menu
Standard Bike Wash – No Detailing R200
Standard Wash & Oil Degrease Including Tin Set, Tyres, Rims, Engine, Etc.
Final Wipe – Remove All Soap & Water – Shine
Vacuum Top Box (Couch Models)
Clean out inside of Panniers & Saddlebags (Touring Models)
(Upgrade to a Special Wash with Detailing @ R800)                                                          
Special Bike Wash with Stage 1 Detailing R1000
Deep Foam "Snow" Wash & Oil Degrease Including Tin Set, Tyres, Rims, Engine, Etc.
Detail Brush Tight Spots
Polish Aluminium & Chrome Parts (Autosol)
Seat & Leather Care
Dress Up Tyres & Deep Clean Rims.
Hand Polish Paint (Tin Set) – Hi-Gloss Glaze
Boot Mark Removal (If Applicable)
Vacuum Top Box (Couch Models)
Clean out inside of Panniers & Saddlebags (Touring Models)
(Upgrade to Stage 2 Detailing @ R600)                                                       
Special Bike Wash with Stage 2 Detailing R1600

Includes All Option 2 Services
Polish Spokes & Rims (Autosol)
Revive All Plastics Incl. Inner Fairing, Buttons, Dashboard & Rubbers
Polish Brake Discs (Autosol)
Clean Entire frame
Two Stage – Machine Polish Paint (Tin Set) – Swirl Removal & Paint Correction
Paint Marker Touch-Ups (Black & Standard Colours Only)
Clean Hoses & Lines
Engine Brightening & Colour Revival – Stain Removal
Machine Buff Indicators & Lights
(Upgrade to Full House Detailing @R350)    
Special Wash with Full House Detailing R1950

Includes All Option 2 & 3 Services
A waterless wash that shines and protects your vehicle in minutes, giving it a deep long-lasting glossy finish. The infusion of SiO2 and Nano Technology gives your vehicle an insane hydrophobic water beading layer that lasts up to ±3 Months. Perfect for Paint, Chrome, Plastic, Glass, Metal and Protection film.
Maximum attention to detail + final clean and wipe.
(Upgrade to 1 Year Nano Guard Ceramic Coat @R500)                                           R2450
(Upgrade to 3 Year Nano Guard Ceramic Coat @R500)                                           R2950
Read more about: 
Harley Davidson Performance Upgrade Options

Now should you be the kind of Harley Davidson rider that wants a smoother more refined ride, or perhaps you are even just the kinda person who wants more power and performance to make your outride that much more fun, then it is time you speak to us about what we can offer you in terms of upgrading your existing engine.
Some Exciting Developing Projects At SAC Raging Bull
With the recent introduction of the all new Pan-America Harley-Davidson adventure bike, it was a natural progression for us to acquire a R&D bike.  We always knew that this bike was going to be exciting and very …
Breaking News
Now, it has always been our intention to one day add an alternative bike brand into our extensive range of tuning options so recently we also started R &D on the BMW GS1200 and 1250. This will eventually extend …
107, 114 & 117Ci M8 Range Of Harley Engines
All 3 the above engines are used in almost the whole Harley range at this stage and we have now successfully completed stage 1, 2 and 3 conversions on many of these bikes.  The conversions are very successful …
More interesting pages to read: